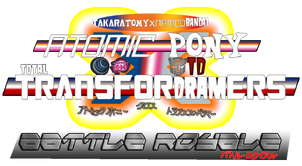 Takara Tomy X Namco Bandai: Atomic Pony X Total Transfordramers - Battle Royale
is a 2D fighting crossover game distributed by Namco Bandai Games in collaboration with Takara Tomy, Arc System Works and Banpresto powered by Taito Type X2, and distributed by Warner Bros. Interactive Entertainment and Aksys Games outside Japan. It's a 4-way crossover for 2 companies (Takara Tomy and Namco Bandai/Hasbro and Teletoon) between Transformers, Atomic Betty, Total Drama and My Little Pony. It will be the first game to have 2 girls' franchise together, a kid's franchise and a older teens franchise. It will be released for Wii U, XBOX 360, PC (as an arcade patch) and PlayStation 3, and also the portable version will be for Nintendo 3DS and PlayStation Vita around the Summer for Consoles, and for the portable version in the Holidays 2012/2013 while the Arcade Game powered by Taito Type X2 is releasing in Spring 2012 in Japan, and Summer 2012 in Canada and the US.
Takara Tomy X Namco Bandai: Atomic Pony x Total Transfordramers - Battle Royale

Developer

Namco Bandai Games
Banpresto
Arc System Works
Takara Tomy

Publisher

Namco Bandai Games (JP)
Warner Bros. Interactive Entertainment (INT)

Release Date:

April 6, 2012 (Arcades in Japan)
Summer 2012 (Arcades in USA/CA)
Fall 2012 (Consoles)

Genre

2D Fighting
Tag-Team

Rating:

T for Teen

Platform:

Nintendo Wii U
PlayStation 3
PlayStation Vita
Nintendo 3DS
Arcade
XBOX 360
Microsoft Windows

Media:

DVD-ROM
Arcade Cabinet
Download, Wii Optical Disc
NVG Card
3DS Game Card
Game Info
Edit
The gameplay is a similar to BlazBlue, Super Smash Bros., TMNT Smash Up, Battle Stadium D.O.N. and Marvel vs. Capcom combined. The characters are put into stages either movable or non-movable and also interactivity level. Up to four players (human or CPU controlled) control a character and fight on a multi-tiered 2D stage only for Free-For-All Mode. Players may use various items that appear randomly to get the fighting edge over their opponent. Additionally, the stage may use set elements in order to take out other players. When players strike one another, glowing orbs will fall out of them. If players collect enough of these orbs, they will fill up their special meter that, when full, unleashes a powerful finishing cross move. Like any fighting game, when a player gets hit, the life gauge will be decreased until the battle is finished by knocking out an opponent when it's empty, It also can get the opponent a knock out by knocking out of the stage, whenever is with high or low health gauge, also with many damage gauge. The separate Tag Team or Solo Match could be without ringing the characters out, but to knock them out.
Some of the stage graphics are in 2D and 3D like BlazBlue and Capcom vs. SNK 2. but the characters are with 2D graphics like The King of Fighters XIII. It constantly makes the game the first Smash Bros. like game to have 2D character graphics only for the free-for-all mode.
Characters
Edit
Atomic Betty X Total Drama
Edit
MLP and Transformers TBA
[¹] Appearing in Episodes of the Series Only
[½] Movie and OVA Exclusive
[⅓] DLC/Appearance In Movies and OVA Only
This is the first crossover of 2 shows mixing with other 2 franchises.
Unlike The King of Fighters: Maximum Impact Regulation A and KOF: Another Day, The animation adaptation is a 5-part miniseries like the Transformers Prime and Transformers G1, and it will be on TV per day, instead of a Special DVD.
The game is releasing in the spring to arcades along with Blaze Fighters in Japan.
This is considered as a Double Crossover, or an "Inception" touch with crossovers as well.