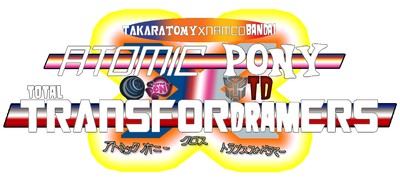 Takara Tomy x Namco Bandai: Atomic Pony X Total Transfordramers
(タカラトミー クロス バンダイナムコ - アトミックポニー クロス トータル トランスフォードラマー, Takaratomii Kurosu Bandai Namuco: Atomikku Ponii Kurosu Totaru Toransufoodoramaa, Pronounced Atomic Pony Cross Total Transfordramers, Also known as Atomic Pony X Total Transfordramers: The Animation) is an animated 4-way crossover series within a collaboration of Namco Bandai Studios and Takara Tomy with Hasbro. It premiered in Teletoon and NaruIchi97 Anitoku in Spring 2012 and premiered in The Hub and Cartoon Network in May 2012. In September 1st, the series premieres in Toonami on AtomicRanger97 Network as a Marathon of Eight Episodes. The series is rated TV-PG and TV-14 and it's between Transformers, Atomic Betty, Total Drama and My Little Pony. It will be the first game to have 2 girls' franchise together, a kid's franchise and a older teens franchise. The Animation was made by Atomic Cartoons, Top Draw Animation, DHX Media Vancouver, Neptoon Studios, and Production I.G. with CGI Animations by Polygon Pictures and Digital Frontier. The Series is Distributed by Shout! Factory and Bandai Entertainment in association with DHX Media Vancouver, Warner Bros. Pictures, Teletoon, Breakthrough Animation, Darby Pop Pictures and Hasbro Studios
Taking place alternately, In the Hasbro/Takara Tomy Universe, The Decepticons and the Autobots invaded the land of Equestria when Cybertron almost collided within the land. When The Decepticons are trying to destroy not just Equestria, but the Autobots, for which they are protecting all the ponies and being allies with the ponies with the elements of harmony, A strange power lead two collided universes to the Namco Bandai/Teletoon Universe, for which to a disastrous power, Twilight Sparkle, Optimus Prime, and the others have been divided. The ponies crashed into Moose Jaw Heights when the Autobots and Decepticons crashed into Ontario. When Betty saw the ponies landed outside her house, She was aware that the mane 6 were the ponies from the show "My Little Pony: Friendship is Magic", even though she likes My Little Pony since she was a little girl. Meanwhile in Total Drama, the Transformers arrived to the place taken in the Total Drama Second Season, And they did not know that they are all friendly robots from a planet too distant from Earth, Except for Duncan since he knows about Transformers since he was a kid. The encounter from Ponies and Autobots on Earth leads Betty and her friends reconciliating with the Total Drama Cast.
Characters
Edit
Atomic Betty and Total Drama
Edit
My Little Pony and Transformers
Edit
Twilight Sparkle (Seiyuu: Maaya Sakamoto, Voice Actress: Tara Strong)
Applejack (Seiyuu: Junko Takeuchi, Voice Actress: Ashleigh Ball)
Rainbow Dash (Seiyuu: Romi Park, Voice Actress: Ashleigh Ball)
Pinkie Pie (Seiyuu: Yui Horie, Voice Actress: Andrea Libman)
Rarity (Seiyuu: Aya Hirano, Voice Actress: Tabitha St. Germain)
Fluttershy (Seiyuu: Aki Toyosaki, Voice Actress: Andrea Libman)
Spike (Seiyuu: Aki Kanada, Voice Actress: Cathy Weseluck)
Princess Celestia (Seiyuu: Masako Katsuki, Voice Actress: Nicole Oliver)
Princess Luna (Seiyuu: Marina Inoue, Voice Actress: Tabitha St. Germain)
Apple Bloom (Seiyuu: Yuuko Goto, Voice Actress: Michelle Creber)
Sweetie Belle (Seiyuu: Sayuri Yahagi, Voice Actress: Claire Corlett)
Scootaloo (Seiyuu: Sanae Kobayashi, Voice Actress: Madeleine Peters)
Big Macintosh (Seiyuu: Tomokazu Sugita, Voice Actor: Peter New)
Discord (Seiyuu: Norio Wakamoto, Voice Actor: John DeLancie)
Optimus Prime (Seiyuu: Tessho Genda, Voice Actor: Peter Cullen)
Bumblebee ·Animated· (Seiyuu: Daisuke Kishio, Voice Actor: Johnny Yong Bosch)
Bulkhead (Seiyuu: Takashi Nagasako, Voice Actor: Kevin Michael Richardson)
Ratchet (Seiyuu: Nobuo Tobita, Voice Actor: Jeffrey Combs)
Arcee (Seiyuu: Shizuka Ito, Voice Actress: Sumalee Montano)
Prowl (Seiyuu: Koji Yusa, Voice Actor: Jeff Bennett)
Skids (Seiyuu: Tomokazu Seki, Voice Actor: Tom Kenny)
Cliffjumper (Seiyuu: Kazuya Nakai, Voice Actor: Steve Blum)
Main article: List of Episodes/ABxMLPxTDxTF
The Miniseries consist of 8 episodes aired in April 2012, and a japanese dub premiered in July 2012.
Executive Producers: Stephen Davis (Hasbro Studios), Peter Williamson, Ira Levy (Breakthrough), Athena Georgaklis (Teletoon), Chris Bartleman, Blair Peters, Kirsten Newlands, Mauro Casalese, Jeff Kline, George Elliott, Brian Irving
Consulting Producers: Lauren Faust, Shunsuke Kaneko, Kevin Gillis
Developers: Namco Bandai, Takara Tomy, Lauren Faust, Kevin Gillis
Animation Studio: Atomic Cartoons, Top Draw Animation Inc., Neptoon Studios, DHX Media Vancouver and Production I.G.
CGI Animation Studio: Polygon Pictures and Digital Frontier
Writers: Kazuki Nakashima (Japanese), Keith Oliver (Total Drama), Alex Kurtzman & Roberto Orci (Transformers), Lauren Faust (My Little Pony), Trevor Bentley (Atomic Betty)
Art Directors: Ridd Sorensen, Michael Arias, Todd Kaufman
Music: Shuhei Naruse, Kotaro Nakagawa, Brian Tyler and John Murphy
Voice Directors: Terry Klassen, Debra Toffan, Matthew Skal, Jamie Simone
Japanese Voice Directors: Keiji Fujiwara and Tessho Genda
Short Animated Movie: Red Hotblooded Mecha Battle
Edit
Atomic Pony X Total Transfordramers: Red Hotblooded Mecha Battle is a 15-minute-or-less short feature film animated crossover movie adaptation of the double crossover between Takara Tomy and Namco Bandai as well as the crossover videogame. The movie will be shown before both PG-13 rated movies and PG rated movies as well as G rated movies, but the edited, family friendly version will be shown in some of the PG/G Rated movies, and the uncut versions will be on the PG-13 rated movies. It will be shown before Battleship, The Avengers, the first ABXTD Movie starting on May 4th 2012. The short movie will be released online in the ABXTD Website and airing on both The Hub and Cartoon Network and AtomicRanger97 Network in Summer 2012 before My Little Pony: Friendship is Magic, Transformers Prime, Transformers G1, Transformers: Rescue Bots, Atomic Betty X Total Drama, Total Drama and Atomic Betty as well as airing on Teletoon, Treehouse TV, and any international channel. It is distributed by Warner Bros. Pictures, Paramount Pictures, Hasbro Studios, Takara Tomy, Namco Bandai Partners and its productions from MLP: FIM, Transformers and ABXTD, as well as Shochiku in Japan. It will be shown in 2D and 3D, as well as IMAX 3D
APXTTFD Movie
Edit
TBA
Battle Royale
Edit
Takara Tomy X Namco Bandai: Atomic Pony X Total Transfordramers - Battle Royale is a 2D fighting crossover game distributed by Namco Bandai Games in collaboration with Takara Tomy, Arc System Works and Banpresto powered by Taito Type X2, and distributed by Warner Bros. Interactive Entertainment and Aksys Games outside Japan. It's a 4-way crossover for 2 companies (Takara Tomy and Namco Bandai/Hasbro and Teletoon) between Transformers, Atomic Betty, Total Drama and My Little Pony. It will be the first game to have 2 girls' franchise together, a kid's franchise and a older teens franchise. It will be released for Wii U, XBOX 360, PC (as an arcade patch) and PlayStation 3, and also the portable version will be for Nintendo 3DS and PlayStation Vita around the Summer for Consoles, and for the portable version in the Holidays 2012/2013 while the Arcade Game powered by Taito Type X2 is releasing in Spring 2012 in Japan, and Summer 2012 in Canada and the US.
Anime Adaptation Series
Edit
Atomic Pony X Total Transfordramers: Ultimate Ponidoxverse is an anime adaptation of the miniseries, now as a long running series. It's a mixture of Harmony Unleashed: Human Ponidox Continuum Shift but differently with Transformers characters and Ultimate ABXTD as the artstyle is made by John Joseco. The series will be rated TV-MA and releasing between 2012 and 2013.