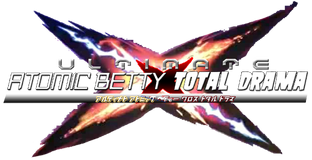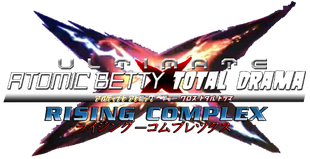 Ultimate Atomic Betty X Total Drama
(
アルティメト アトミックベティ クロス トータル ドラマ,
Arutimeto Atomikku Betti Kurosu Totaru Dorama, Pronounced Ultimate Atomic Betty Cross Total Drama)
is a Japanese-Canadian 6-part Mini Series event marking the return of Atomic Betty X Total Drama. It will be released in November 19 on AtomicRanger97 Network as part of the Toonami Special Block on the Thanksgiving Week. And It will be distributed by Warner Bros. Animation, Namco Bandai Pictures, Aniplex and Breakthrough Media. This is the first of the series to be rated TV-MA and also to be only on [adult swim] as part of Toonami as well as AtomicRanger97 Network and G4 in the USA and G4 and Teletoon at Night in Canada, Also to be airing on AT-X and TV Tokyo in Japan.
A year later still before Atomic Betty Redux and the movie "Futuristic Final Chapter" but after the original Atomic Betty X Total Drama. Betty is All Grown Up, not like a 17-year-old in the Atomic Betty Series Finale "The Future is Now!". And so are their friends, and they wonder where the old cast and new cast of Total Drama were right now? Probably in their good future tasks. But after Maximus' death, there is a new ruler of evil when she got a cyberverse ruling with Minimus, and it's Heather, then all the cast of Total Drama and Betty and her friends were sucked into the cyberverse since they are being not just social in person but on the Internet. They all ended up in Cyberspace. Which they were at war against Heather, The cast needed weapons just like Betty and her friends, especially Sparky and the other galactic Guardians.
Character Cast
Edit
NOTE: Voices for Chaz Lang, Sam, Duncan Paine, Admiral DeGill, Regeena Peterson, Heather, Ezekiel, Cody and Cameron are changed in the Japanese dub, while Heather and Tyler's voice is only changed in the English Dub.
Atomic Betty
Edit
Betty Barrett (CV: Yoko Honna, Tajja Isen [English])
Sparky (CV: Hiroyuki Yoshino, Rick Miller [English])
X-5 (CV: Toshiyuki Morikawa, Bruce Hunter [English])
Admiral DeGill (CV: Norio Wakamoto, Adrian Truss [English])
Noah Parker (CV: Junko Takeuchi, Laurie Elliott [English])
Penelope Lang (CV: Megumi Hazeyama, Ashleigh Ball [English])
Chaz Lang (CV: Nobuhiko Okamoto, Scott McCord [English])
Regeena Peterson (CV: Nozomi Furuki, Leah Cudmore [English])
Atomic Roger (CV: Kazuhiko Inoue, Robert Tinkler [English])
Sam (CV: Aki Kanada, Cathy Weseluck [English])
Minimus PU (CV: Kunihiro Kawamoto, Matt Hill [English])
Duncan Paine (CV: Yuki Kaji, Peter Oldring [English])
Total Drama
Edit
Chris McLean (CV: Keiji Fujiwara, Christian Potenza [English])
Chef Hatchett (CV: Kenta Miyake, Cle Bennett [English])
First Generation Cast
Edit
Duncan (CV: Noriaki Sugiyama, Drew Nelson [English])
Courtney (CV: Yui Horie, Emilie Claire-Barlow [English])
Gwen (CV: Saeko Chiba, Megan Fahlenbock [English])
Trent (CV: Koki Uchiyama, Brad Swaile [English])
Heather (CV: Miyuki Sawashiro, Tara Strong [English])
Owen (CV: Toshihiko Seki, Scott McCord [English])
Izzy (CV: Chiwa Saito, Katie Crown [English])
DJ (CV: Kenji Nomura, Cle Bennett [English])
Geoff (CV: Yuichi Nakamura, Dan Petronijevic [English])
Bridgette (CV: Aya Hirano, Kristin Fairlie [English])
Tyler (CV: Tomokazu Seki, Andrew Francis [English])
Ezekiel (CV: Rikiya Koyama, Peter Oldring [English])
Cody (CV: Akira Ishida, Peter Oldring [English])
Sierra (CV: Ami Koshimizu, Annick Obonsawin [English])
Lindsay (CV: Satomi Akesaka, Shannon Chan-Kent [English])
LeShawna (CV: Yuu Kobayashi, Novie Edwards [English])
Harold (CV: Kenichi Suzumura, Brian Froud [English])
Beth (CV: Rie Kugimiya, Sarah Gadon [English])
Katie (CV: Ai Nonaka, Stephanie Anne Mills [English])
Sadie (CV: Kana Asumi, Lauren Lipson [English])
Noah (CV: Shotaro Morikubo, Carter Hayden [English])
Justin (CV: Daisuke Kishio, Adam Reid [English])
Second Generation Cast
Edit
Anna Maria (CV: Shizuka Ito, Athena Karkanis [English])
B
Brick (CV: Takashi Nagasako, Jon Cor [English])
Cameron (CV: Tetsuya Kakihara, Kevin Duhaney [English])
Dakota (CV: Fumiko Orikasa, Carleigh Beverley [English])
Dawn (CV: Maaya Sakamoto, Caitlynne Medrek [English])
Jo (CV: Yukari Kokubun, Laurie Elliot [English])
Lightning (CV: Kappei Yamaguchi, Tyrone Savage [English])
Mike (CV: Takashi Ohara (Ultimate); Ryohei Kimura (Rising Complex), Cory Doran [English])
Sam (CV: Hidekazu Ichinose, Brian Froud [English])
Scott (CV: Nobuyuki Hiyama, James Wallis [English])
Staci (CV: Junko Minagawa, Ashley Peters [English])
Zoey (CV: Sayuri Yahagi, Barbara Mamabolo [English])
Atomic Betty and Total Drama OC
Edit
Jessica (CV: Ryoko Nagata, Tara Strong [English])
Julia (CV: Minori Chihara, Kira Tozer [English]
Kenji Smith (CV: Atsushi Abe, Nolan Gerard Funk [English]
Terrence Oliver (CV: KENN, Atticus Mitchell [English])
Main article: Ultimate Atomic Betty X Total Drama/Episodes
The Series will have Six Episodes. Which it counts as a miniseries. The episodes air November 19 on AtomicRanger97 Network as part of the Toonami Special Block on the Thanksgiving Week. As of January 2013, Fresh TV, Atomic Cartoons, Aniplex, Bandai Visual, Warner Bros. and Teletoon announced the mini-series' continuation as titled "Rising Complex" to air on AT-X and TV Tokyo in April 2013 in Japan and Summer 2013 in Adult Swim and AtomicRanger97 Network's Toonami and MTV. However, due to the new reboot series of Atomic Betty X Total Drama as ZX, The episodes are unfortunately in total of 13. Making a total of 18 episodes for the whole Ultimate series.
Music Composed by Akira Yamaoka and Taku Iwasaki
Arranged by Kevin Gillis and Brian Pickett
Opening Theme: Core Pride by UVERWorld [Mini-Series], Innocence by Eir Aoi [Series]
Ending Theme: Break and Peace by DUSTZ [Mini-Series], Trust You by Yuna Ito [Series], Innocence by Eir Aoi [Finale]